WORSHIP THIS WEEK

&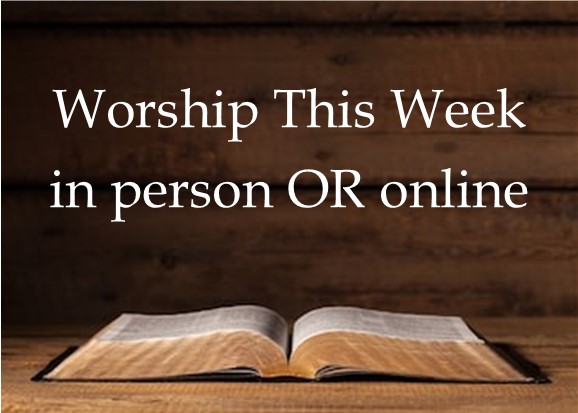 WORSHIP THIS WEEKEND
What we doing to insure safety and adherence to the Governor's directives:



- Have multipe hand sanitizer stations throughout church entryway  




- Open windows in church (if weather allows) to increase ventilation




- Offerings plates will not be passed but you can donate online or place in offering basket on way in/out




- Print off entire worship service (including hymns)




- We will 

livestream the service 

at 8:30 AM and upload

 the bulletin 

on the website.


- The 10:30 AM service will be outside with our tent providing shade (weather permitting). 


- Feel free to bring your own lawnchairs to sit on for this service.  




- We will not currently have Adult Bible Study or Sunday School at church 




- We will have you to leave the church from the back to front 


- We will still celebrate the Lord's Supper on the first & third Sunday of the month.  
 

However, we have made a few changes to ensure that we keep social distance.  

-  

We will have one family approach the altar at a time.  




-  G

rab a cup (with your wafer inside) from the table by the baptismal font.




-  

Go to the "station" on your side of church where you will find the individual cups.




-  

Pastor will speak the words from in front of the altar (6+ feet away)




-  

After eating and drinking, proceed back to your seat by going down the side aisle, 
   out into the entryway, and then back to your pew.




-  

After everyone has received the sacrament, Pastor will announce the blessing for 
   everyone.

 


  

 
What we ask of you:



  -  Those who are most at risk, or don't feel comfortable should stay home and
     participate online




  -  If feeling sick or have any symptoms, please stay home!!!




  -  Sit with your family and sit at least 6 feet from another family unit




  -  Congregate Outside (if weather allows) or spread out in the entryway




  -  Try to fill church from front to back and outside to inside to keep people 
     from having to walk past others




  -  Have each person grab bulletin from pile, print off at home or download 
     and use personal device (phone/tablet)




  -  If you are going to follow along on phone, please make sure the ringer is off




  -  Please take home your worship folder or throw it away at the end of the service




  -  Practice good hygiene, including but not limited to washing your hands often, 
     cough into elbow or tissue




  -  According to the Governor's mandate, facecoverings should be worn inside
     unless your age, health or activity does not allow it.

We are optimistic and excited at the possibility of worshiping together in person again, but also want to be wise, loving and follow the directives put in place by those whom God has put over us. Therefore, we would love it if your family is able to be here in person at either 8:30 AM or 10:30 AM, but please understand that there is no pressure to do so. I completely understand that this is an uncertain and unique time and each family will want to prayerfully do what they think is best for them. To that point, I will continue to upload the worship folder, Bible Class and Sunday School material, and livestream the service.

I pray you are all well and that we will all be able to worship in person together soon. If you have any questions or thoughts, please let me know.


In Christ alone,
Pastor Jeff Sonntag
pastor@shiningmountains.org